The New Mini tm
The first time a saw the new mini, or model thereof, was at the John Cooper Pavilion at mini@40 at Silverstone. Anybody who was anybody in mini circles was there and I was not the only one to fly thousands of miles for this event. We all knew that the real mini was doomed and this was possibly the last birthday it would ever have while it was still in production in its original form. Turns out it had one more….just.
So, the new mini is here and what do I think?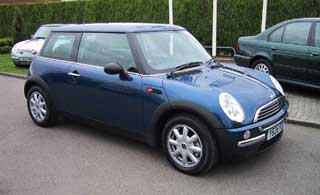 Well, a mini it is definitely not! If I had to sum it up in one sentence I would say this: It is a reasonably small BMW sports car about the size of an MG-F with a roof and a decided lack of performance!
Performance was the most disappointing aspect for me. Maybe I was expecting too much from a 21st century car brandishing the cooper name. The cooper beat anything in its class when it came out – not to mention most well above its class! This new car is worse than a golf Gti, infact, any reasonable hot hatch of any worth will leave this car in the dirt. I couldn't drive too recklessly with the salesman sitting next to me in the car, but at about 100km/h in 4th gear, I put foot and buggerall happened!!!!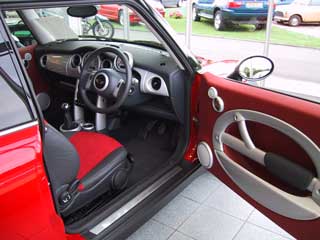 The interior is very retro, either you love it or you'll hate it. They have tried to capture some of the real mini's feel and looks, but it is still a very modern design. I think it's quite nice – except for the doors. They have tried to give the car a race feel for which the mini is famous for, and the gray bars on the doors are supposed to resemble the roll cage. Well, they don't and I think it's hideous! There is no walnut option but the salesman seemed to think it was on the cards. He had sold 30 so far and every other person had asked for walnut interior. – Probably have to buy a whole new car for that since there is very little scope for DIY on this car. (and BMW would probably void your warranty if you did).
Access to the back seat is much better. The backrest comes forward and then the whole seat slides forward. You have to slide the whole seat back into position in one smooth motion else it seems to jam and you have to re-adjust your backrest.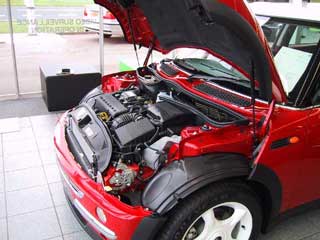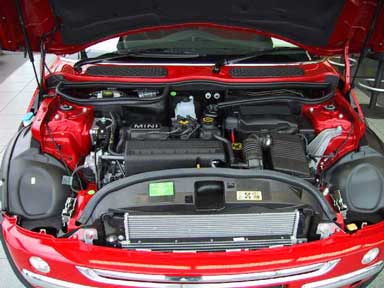 The engine bay is full – very full. I wouldn't know where to find what inside there. The bonnet does lift up rather well – right out of your way. Most of us would take off the whole bonnet when working on the engine so this is definitely quicker (not that you would have a hope in hell of fixing anything in there yourself anyway!)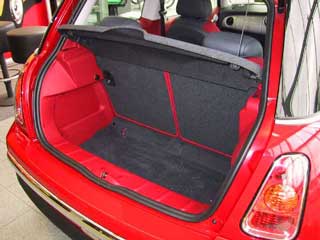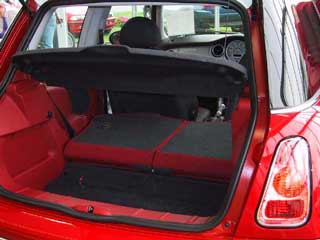 Boot has loads more space than the real mini and the seats fold down quite well to give loads more extra space. You have to open the seats via the boot because the clips are only accessible from there so its hard to gain access to the boot from inside the car.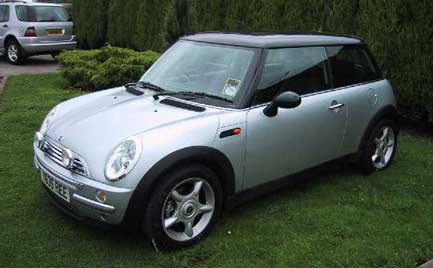 Exterior is actually very nice. The paint job is excellent and the car feels very strong and safe. The door is about 10" thick! My only gripe is that all the chrome brightwork is actually fake. BMW have used plastic –looks ok for now – buts lets have another look when your car is 20 or 30 years old. You need special brackets to fit your spots since the plastic grill will never do.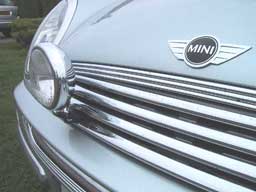 They say it has a hard suspension and they have tried to give it a mini feel and make the driving experience as much fun as possible. Well they could have fooled me! The suspension was so bad I couldn't even feel the road at all! Non power steering is not an option so it's difficult to feel what is really going on. Infact, on a long trip you'll have to be careful not to fall asleep as its simply too quiet, comfortable and boring.
This car has all the modern accessories and driving aids that you could ever wish for:
ABS brakes, CBC (cornering brake control), EBD (electronic brake force distribution) to mention a couple as standard. You still have the option of about a zillion others. You can get things like Traction Control and Dynamic Stability Control added – go ahead, if you have the money then you can afford to get these things fixed when they pack-up. Not to mention destroying any spirit that this car might have of the original mini!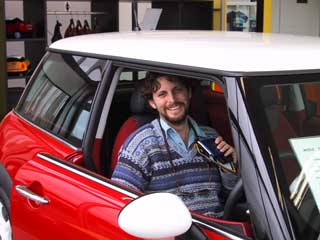 Would I buy this car? Maybe…….when the S is released. The poor performance is an issue for me and I prefer my golf III for now. Of course I would never sell my present mini either.
Is that a smile on my face that I'm unable to suppress???? Well, there must be something about this car after all..........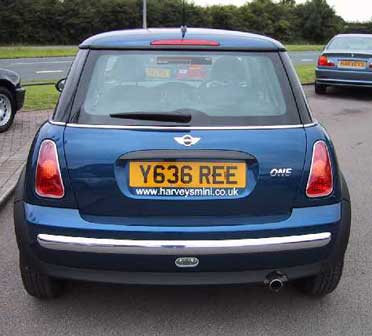 These are my own personal opinions of the car. Try it, look and drive it for yourself.